AFR Releases kW Package-free ClearCut™ Fiber Bragg Grating
Shanghai, March 20, 2019-- Advanced Fiber Resources (AFR) drew a lot of attention at the 2019 Laser World of Photonics with the unveiling of its kW Package-free ClearCut™ Fiber Bragg Grating, a new device that improves FBG user experience.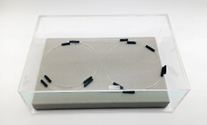 ▲AFR's kW Package-free ClearCut™ Fiber Bragg Grating
Controlling temperature has long been a challenge when using FBG devices. The typical solution has been to dissipate excess heat using a mounting structure or package. The extra mounting, however, creates difficulties with installation and true temperature monitoring of the FBG area.
AFR's kW Package-free ClearCut™ FBG may be bent and mounted in any position along with other fibers, eliminating the need for a separate mounting structure or package and maintaining an ultra-low temperature rising without adding extra cooling. Additionally, this product may add an FBG area temperature monitor, to help users or engineers improve real-time data analysis, and ensuring system safety.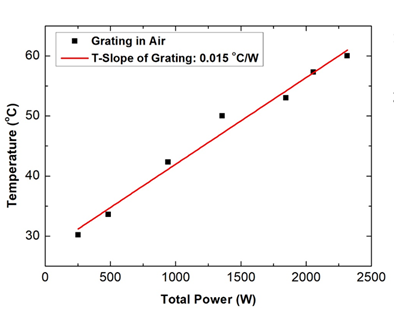 ▲Temperature Slope in Air

"The kW Package-free ClearCut™ FBG product well represents AFR's technical capability. It makes AFR a more one-stop-shop for fiber laser components. We are committed to the continuous advancement in product technology and product quality." said Kevin Zhang, AFR's VP of Engineering.

Small in size, big on capability, AFR's kW Package-free ClearCut™ FBG ensures more than 2.0kW pump power and 1.5kW signal power handling with outstanding reliability. It has passed the critical qualification tests including low/high temperature storage, temperature cycling, fiber pull and high humidity.
Learn more about details, please visit www.afrlaser.com
About AFR
Incorporated in 2000, AFR (SZSE: 300620) is a leading provider of passive optical components, mainly designed for industrial laser, telecom, data center, fiber sensing, biomedical and autonomy field. AFR manufactures advanced and cost-effective products through our 360k sqft facility in Zhuhai and Shenzhen, and has been widely recognized by customers worldwide for its superior quality.